New Service Beginning 7/16/09
Perfect Sense Paraffin Treatments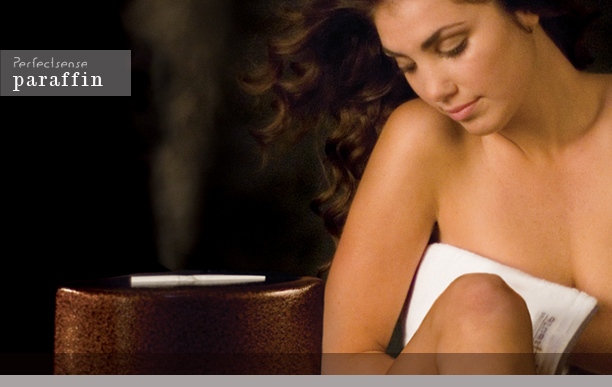 Add on a Perfect Sense treatment to your massage!
Hands treatment $15
Feet treatment $15
Hands and Feet Treatment together for $25
SOFTEN DRY DAMAGED SKIN
PerfectSense Nourishment™
Consisting of 11 vitamins including A, C, E, D, B-5, and B-12, Nourishment provides the nutrients vital to healthy skin and is ideal for renewal and maintenance. Heated treatments produce the exceptional hydration and protection from dryness, cracking, soreness and irritation that world-class spa goers have come to expect from PerfectSense™.
POWERFUL CLEANSING EFFECT
PerfectSense RedRock Detox™
Offers the same skin supplements plus the detoxifying elements of Arizona red rock clay and renowned green silt from Romania. RedRock Detox™ specifically addresses toxins that pool in extremities. The warmth of paraffin increases circulation to the hands and feet while toxins, fluids and fats are pulled naturally from the skin and absorbed by the clay and silt infused within the paraffin.
PROTECT AGAINST AGE AND SUN DAMAGE
PerfectSense Antioxidant™
An all natural blend of renewing and anti-aging ingredients. Combining white and green teas, grape seed oil, and a potent mix of cranberry, blueberry, goji berry and lingonberry, the Antioxidant Infusion combats free radical and sun damage, leaving skin looking and feeling younger, healthier, and more vibrant.

Therapeutic       Preventative        Corrective
Ideal for relaxing, calming and soothing you mind and body.
Its never to soon to begin to care for hands and feet.  Perfect sense paraffin treatments help maintain optimal skin health through regular hydration, nourishment, detoxification and protection.
Highly effective at restoring hydration levels in dry, damaged skin for a youthful and healthy appearance. For best results, clients can augment professional treatments with home care protocols.