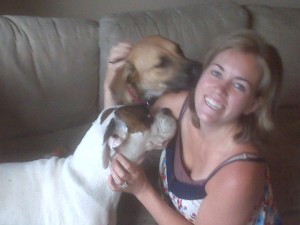 Lindsay Bodkin, Owner of Ladybird Light, LLC., is a Massage Therapist, Registered Karuna Reiki® Master Teacher, Usui Reiki Master Teacher and Magnified Healing ® Teacher who specializes in Animal Communication.  Lindsay offers Massage Therapy, Reiki Certification Classes, Animal Communication Workshops, and Reiki Services for people and animals.  If you would like more information about Lindsay and her upcoming classes, please visit her complete website www.ladybirdlight.com.
Reiki is a gentle, non-invasive form of energy healing that helps balance the mind, body and spirit.  Reiki helps to break emotional, mental, physical and spiritual blockages by balancing the Chakras, or energy centers within our bodies, so our life-force energy or chi can flow freely.
The benefits of Reiki are limitless.  Whether you want to unwind from a stressful day,  release a past trauma, or speed the healing of a broken bone, a Reiki treatment aids in your body's natural ability to heal.  Please note that you remain fully clothed during a Reiki treatment.
You may schedule human Reiki sessions online through our booking calendar.  If you do not see a day or time on the booking calendar that works for you, please feel free to call Lindsay directly at 518.330.6498, as she is more than willing to accomodate your schedule.  Also, please contact Lindsay directly if you would like to schedule an appointment for your animals.